PROMOTE 30% OFF FOR NEW YEAR HOLIDAY 🎉
Face Changing Building Blocks - Games to increase intelligence
Discount only available in
Is your grandchild or daughter in need of a great toy? Here's an awesome toy for improving memory in your children: a cube with face changing building block. This toy enhances children hand-eye coordination, observation, and logical thinking, as well as brain development.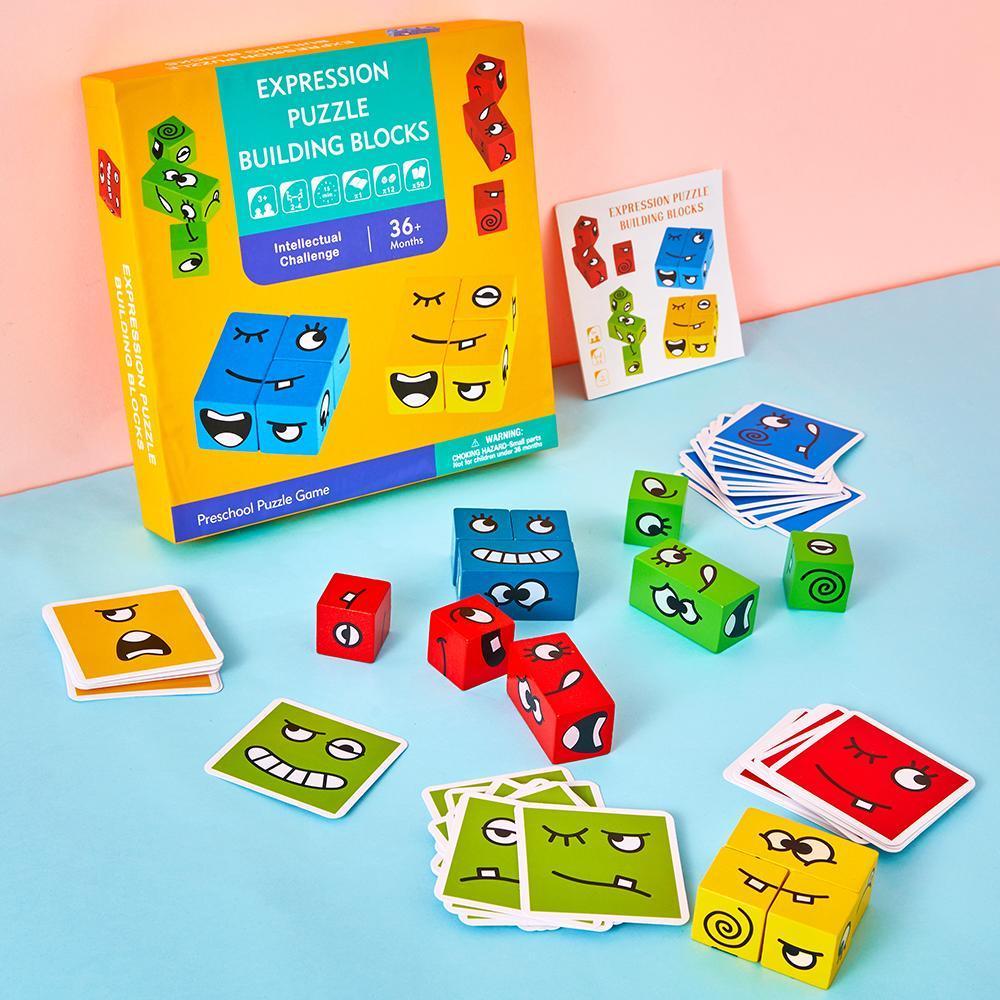 Giving your grandson or granddaughter this delightful gift is a perfect way to please them.
Take advantage of this excellent opportunity to purchase it now before it is too late!
Educational building blocks come in four different colors. Each side of the block is adorned with a different cartoon expression, while the instruction card has 50 cute expressions. Your child will quickly become interested in it, since it looks very interesting. A wooden block with an expression cube is made of environmentally friendly wood, painted with odorless and non-toxic water-based paint, and is very suitable for children to play.
It is a great interactive game toy that is suitable for children ages 3-12. By using the references on the cards, children can build their own blocks. In a short period of time, children can build their own blocks.
Having a cute and interesting appearance, the expression building block toy will quickly capture children's attention. It stimulates children's attention, increases their hand-eye coordination ability, enhances their ability to think logically, develop practical skills, and improves their fine motor skills. Additionally, children can turn off electronic screens by playing fun games, which helps keep their eyes healthy.
This toy is easy to carry due to its sturdy packaging box. Parents and schoolmates will enjoy sharing this toy together. Children can strengthen their friendships through this game. Interpersonal skills can be improved as well.
It is very suitable for children's gifts, because the boxes and cards have a cartoonish and childish look. Children can pick up the cube block easily in the box due to the thoughtful grooves. Children can easily store and carry the cube block. This gift will definitely be loved by children.
Main Features:
This wooden toy is non-toxic and safe for children to play with since it is made of durable wood.
Water-based non-toxic paint.
No sharp edges and easy to grasp
Games for individuals and groups
They are also able to improve their ability to recognize colors, hand-eye coordination, and memory.
Package includes: Suitable for children ages 3 and up.
Contains 1 wooden building block puzzle
Product Specification:
Suitable Age Range: 3+ years
Material: Wooden
Contains: 16 blocks, 36 cards